History of Establishment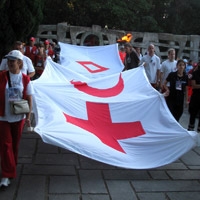 ---
The Red Cross in Cyprus began to operate in 1950 as a branch of the British Red Cross. After the establishment of the Republic of Cyprus, the Cyprus Red Cross Society (CRCS) was established as a body corporate pursuant to Law 39 of 1967 and was recognised as a Voluntary Aid Society auxiliary to the public authorities for humanitarian purposes.
CRCS was officially recognized on the 23 February 2012, by the International Committee Red Cross (ICRC) and admitted on the 12 November 2013 in the Internation Ferederation of Red Cross and Red Crescent Societies (IFRC) and constitutes the 188th member of the International Red Cross Red Crescent Movement.
CRCS, just like every Red Cross/ Red Crescent National Society, immediately adopted the 7 Fundamental Principles which govern the existence and define the nature of the organization, which are Humanity, Impartiality, Neutrality, Independence, Voluntary Service, Unity and Universality.
CRCS is the largest organization in Cyprus and amongst others it helps prevent and alleviate human suffering and supports individuals and communities prepare for, and respond to emergencies, in times of peace and war, without any discrimination as to race, gender, age, social, religion or politics.
Its largest project in Cyprus is the operation of the Children Therapy Centre 'Stella Soulioti' (former Home for Sick Children) in Limassol. There, children aged up to 22 years old with severe physical disabilities, such as brain paralysis, muscle dystrophy, various syndromes and other serious developmental and mobility problems are cared for. In parallel, with medical and nursing instructions, physiotherapy, speech therapy, occupational therapy, hippotherapy, hydrotherapy, music therapy and psychological sessions are offered to the children and special help is provided so that they can move easier. Particular emphasis is given to the appropriate entertainment of the children, to the creation of a family atmosphere, to their incorporation into society and generally to offer a better quality of life.
CRCS offers humanitarian assistance suchs as food and clothing, grants wheelchairs, helps cover all the needs of the enclaved, offers First Aid lessons, organizes blood donations, responds and manages emergencies, offers psychosocial support services, covers the needs of migrants, provides tracing and restoring family links services, organizes camps for the youth and campaigns for various social, environmental, health issues etc.
In response to calls of the International Movement, humanitarian help is sent and financial contribution is given to cope with disasters in all areas of the world and it undertakes major projects such as the construction of a Hospital in Sri Lanka and the assistance in the completion of a second hospital in Badulla for the victims of the Tsunami, the construction of a Community Health Centre in municipality Oleni, in the fire-affected area of Peloponissos.
Presidents of Cyprus Red Cross Society from 1950 until today:
Lady Wright
1950-1953
Lady R.P. Armitage
1953-1955


G.E. Sinclair, Esq.
1955-1959

Glafkos Clerides
1959-1960

Stella Soulioti
1960-2004

Fotini Papadopoulou
2004-today